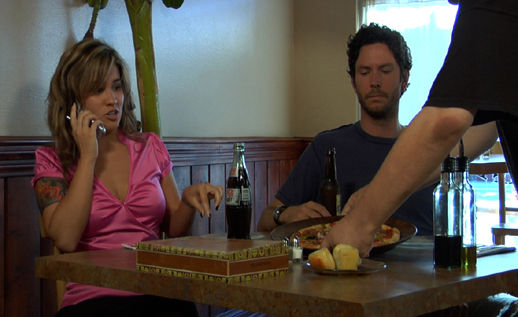 Go See a Local Flick, Like The Watermelon!
 The Seventh Annual San Diego Film Festival starts today and runs through Sunday, September 28 This annual event, celebrating the art of moving pictures, video, music, writing, and acting has become one of San Diego's cultural mainstays in downtown, along with the ComicCon, Street Scene, and Artwalk
Each year, the SDFF screens films from across the country as well as other nations.  It brings in a few celebrities, Hollywood producer types, indie filmmakers, and more importantly, local talent, such as The Watermelon, written by Michael Hemmingson.
Perhaps you have seen Michael walking around the offices or sitting in the cubicle by my desk.  This is his first film—he wrote it to originally be shot in San Diego, but things did not work out. Although filmed in Los Angeles by a North Hollywood company, LightSong Films, The Watermelon is supposed to be set in a beach community that is n a cross between Ocean Beach and Encinitas – although actually filmed in Pasadena, Malibu, and Beverly Hills. (Trivia: during the beach scene, the greenish house in the background is Barbara Streisand's home, who was there at the time of the shoot.  She and her husband, James Brolin, came out to see what was going on.  The scene was shot on the beach property of Tony Romano, Executive Producer of I, Robot, I, Robot2 and Catch Me If You Can, and who will produce Michael's second screenplay, Stations.)
The Watermelon screens Friday @ 2:30 PM and Sunday @ 5:00 PM at the Pacific Gaslamp Theaters, where all the SDFF movies will be shown. Two other local films are also scheduled during the weekend, as well as blocks of short films by San Diego students and budding filmmakers.
You can buy tickets online at sdff.org or at the box office, located in the Border's Books next to the Pacific Gaslamp.