http://www.youtube.com/watch?v=0I6xkVRWzCY
WordPress 2.7 has been released today, nicknamed "Coltrane". And in case that means nothing to you, where should I begin? WordPress is a most awesome open source blogging system that has been expanded to really become a fully-functional Content Management System. With plugins to allow everything from image galleries (check out WordPress' creator Matt Mullenweg's nice setup) to fully customizable Meta-data on every page and post you create (check out what Ron is doing over at the SDInteractive blog), there is something for everyone.
This latest update,  among much more goodness, throws jQuery around all over the backend, as if we were having a snowball fight, but the snowballs are awesomeness, allowing you to drag and drop to customize your blog how you want it (or how I want it…), and really making blogging, and all around site management, a lot more friendly.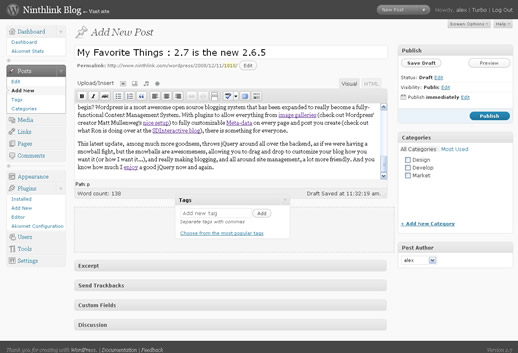 And you know how much I enjoy a good jQuery now and again.
Which reminds me… I was at Hoboken pizza in PB on Saturday for lunch, and 4 people, 2 guys and 2 girls, sat down at the booth behind us. I couldn't help but overhear the two guys immediately start talking about how they had tried out jQuery, but didn't like it as much as prototype because, in their eyes, jQuery was good at animation, but wasn't capable of creating new objects on the webpage they wanted. Arlene said I wasn't allowed to correct them, so I'll end this post just saying that I have yet to see something jQuery couldn't do, and, young Jedis, wherever you are, it can definitely do that. Go go, Sundance Spas' Compare-A-Spa !
Go go WordPress 2.7!