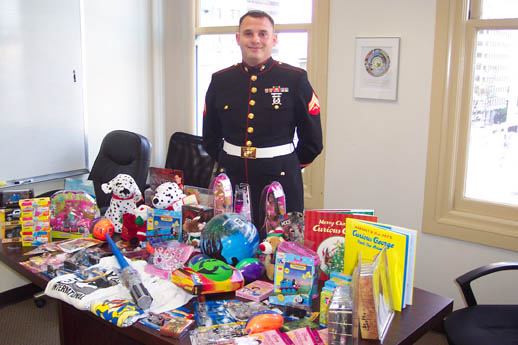 "Christmas, my child, is love in action. Every time we love, every time we give, it's Christmas." ~ Dale Evans Rogers
For the last 61 years, from October through December, thousands of companies and individuals rally together for one cause: to give the gift of Christmas to nearly 3 million children per year through the Toys for Tots program.
What does the gift of Christmas mean?
This means that despite whatever hardships these children have had to face in their young lives, every Christmas they are given a reason to believe that there is good in the world. This good comes from not only the people who donate toys to this cause, but also the people who donate their time to organize the toys after the collection, the companies who use their resources to host drives and promote this cause, the parents of these children who work very hard to provide their children with love and life's other necessities and the Marines who collect the toys and enable a deserving family to feel the Christmas spirit.
Thanks to a supportive community and team, we exceeded this year's goal by 150% and gave 75 families the gift of Christmas.
There have been many Toys for Tots drives this year and there are still many more going on. If you haven't been able to donate toys to this cause and would like to, you still have time! Here is a list of San Diego Toys for Tots drop off locations. Thank you for your kindness and generosity and Ninthlink's wish is that this Christmas mentality will last all year long because, "Every time we love… it's Christmas."