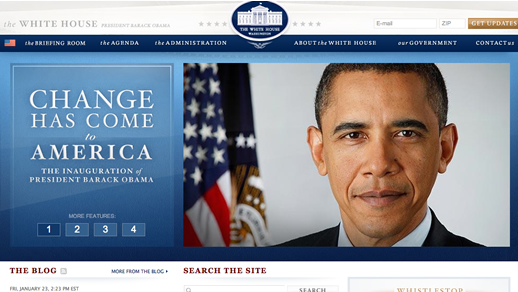 It's no secret that much of President Barack Obama's successful campaign for getting elected "the leader of the free world" had a lot to do with reaching out to the denizens of cyberspace in ways no other candidate ever has, not even his opponent, John McCain.  While Al Gore may have (erroneously)  invented the Internet," Obama and his Net-savvy campaign handlers (and a vast amount of volunteers) used online marketing techniques to virally get their word out. "Obama built an incredible national infrastructure by combining the Internet and his field operations," said Nicco Mele of Harvard Kennedy Business School, who conducted a study of Obama's marketing methods.
That's right—Obama was marketed to the people of the United States, and we internet marketers (in the commercial profit and non-profit realms) can learn a lot from what was done, because it is a success story, as noted in publications The Denver Post to Time Magazine.
Here are some of the methods used:
1.      Easy online donations.  The campaign drew most of its campaign contributions from online donors, and made it easy with just one click!  $1 or $100, they accepted anything, and it was very easy. It was quick, cheap and far less intimidating for political novices than writing a big check. Usability and comfort were the keys.
2.      Facebook. Many groups, regional and national, were created on the social networking site Facebook.  When there was a backlash over Obama's middle name, a campaign over Facebook initiated many supporters changing their middle names to "Hussein."  What was once a social stigma became acceptable. This sort of viral campaigning was creative and politically provocative – no matter what people felt about the name, attention was drawn.
3.      New social networking.  Facebook and Myspace and other social networking sites were not the only places Obama targeted; new sites were created, such asOne Million Strong for Barack  that, in less than a month, drew in 295,000 members. Cheryl Contee of Issue Dynamics Inc., a public relations firm that focuses on online trends, said Obama had "far and away the most momentum" on social network sites, his "popularity [is] among younger, well-educated people ages 18 to 35."
4.      Video-game embedding.  Obama was the first presidential candidate to strategically embed ads within video games. Understanding the vast popularity of video games with those over 18, the new voters, Obama took advantage of this viral marketing method.
5.      Internet ads. Obama used the "you have to spend money to make money" model of advertising that all marketers know is a cardinal truth.  With the influx of donations, that money was used to buy time and space all across the Internet.
6.      YouTube. The site hosts free videos, and Obama jumped on that channel. An estimated 13 million people watched Obama spots on the site.
7.      Loyalty. One thing is for sure, Obama's supporters were loyal to his cause and promise for change in the nation. Loyal supports online brought in more supports by blogging, linking, and recommending various social network and donor sites.  Brands know that customer loyalty in an important part of marketing, which holds true for politics as well.
8.      Bloggers. Never underestimate the power of the blog, which can make or break a career, and pinpoint facts that major news outlets overlook.
9.      Micro-blogging. Obama himself was a fan of Twitter. Many people followed him on Twitter. By using this popular micro-blog, Obama created loyalty from those who felt something in common with the candidate.
10.  Quick response.  When McCain's campaign criticized or accused Obama, Obama's campaign was quick to respond via Internet ads before television and print responses, often within minutes.  The speed of technology was used effectively.
The top three factors for non-profits to run successful online marketing campaigns are:
1.      Recruitment
2.      Loyalty
3.      Fund raising
There is much any non-profit can learn from Obama's success.  Recruitment online was done through blogging, social network groups, streaming video, and creative ad placement.  The social groups empowered loyalty, using a positive message to the masses that encouraged members to recruit more members.  Fund raising was done through the ease and comfort of a quick way to donate money, which psychologically made donors feel they were contributing to something greater than themselves.