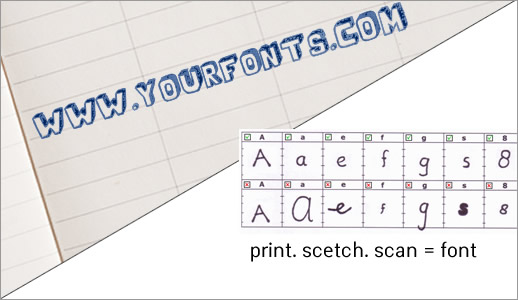 I've always wanted to design and create my very own font, but haven't  had the resources to do so…Until now.
As part of our daily resourcing – to keep up with the latest innovation, we came across yourfonts.com. It's a free online font generator that allows any one to create their own OpenType font within a couple of minutes! Not only can you do that, but make as many fonts as you want…and the process is easy. Simply download a template, which has a space provided for you to personally write in every letter you want included in your font collection; then fill the template in. After that, scan your template, and upload it to yourfonts.com. This allows you to upload large templates ( up to 4000 x 5000 pixels ) and has the most advanced raster to vector conversion algorithm. What does this mean? High quality personal fonts! Yeah-ya. After uploading your font, you then get to preview. If you like it, all you have to do is download your new font, if not, make a quick fix and re-upload it.  Then… Insatll your very own font and start using it.
With a system like this you can create your own library of fonts, and start promoting them!   www.yourfonts.com – you get a thumbs up.