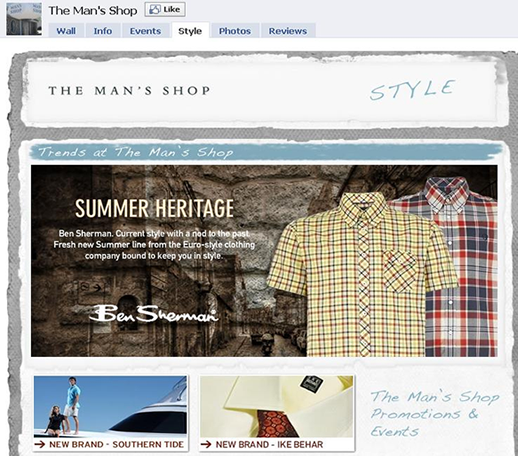 Whether you're a fan of Facebook, think it's a huge waste of time, or still have no idea what it is, there is one important fact which can't be ignored… the social networking site is HUGE and still growing.
Currently the world's most popular website, with 500 million users (and counting) and advertising revenues approaching $1billion, the social networking site has become a staple of almost every social media campaign.
Endless Possibilities
Using Facebook to bond with potential customers is an easy and cost effective way to build brand awareness and show off your business.  Companies big and small have created custom profiles for their businesses, which allow users to view photos, get product/service updates, post comments and connect with brands in a fun, social environment.
How We've Taken Advantage
Here at Ninthlink, we decided to get proactive and create custom pages for a couple of our clients.  A favorite of ours is one we did for The Man's Shop, a retail store in Arlington, TX, which has more than 400 fans receiving product updates and store related news.  We were even able to incorporate a Newsletter SignUp form directly into their profile.
Interested in enhancing your online presence with a custom Facebook page of your own?
Connect with a Ninthlink Pro today.