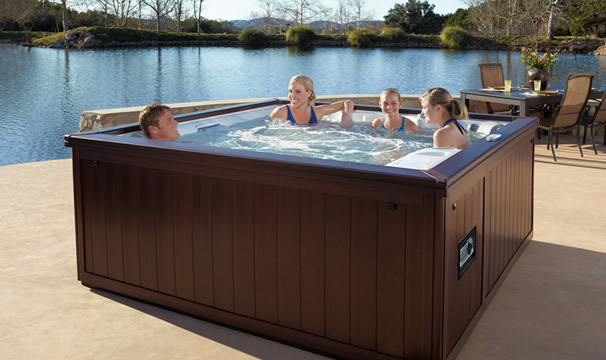 We gave Sundance Spas' website an updated look and feel with an increased focus on videos, product imagery and our most important calls to action for consumers.
Video Integration
Online videos are a great, interactive way to both entertain and educate consumers on your product and service offerings.  Sundance Spas has really taken advantage of this with the increased emphasis on video  in their new website.  The homepage features a prominent video call to action, which leads users to a comprehensive video library, where users can view and share the  latest videos featuring spas, water purification, hydrotherapy, inspiraing installations, and more.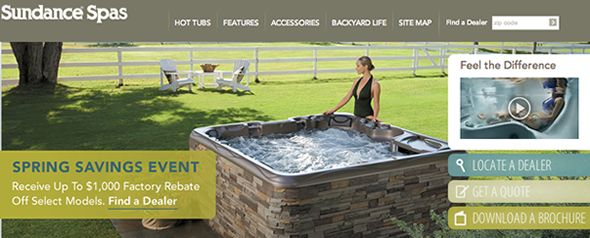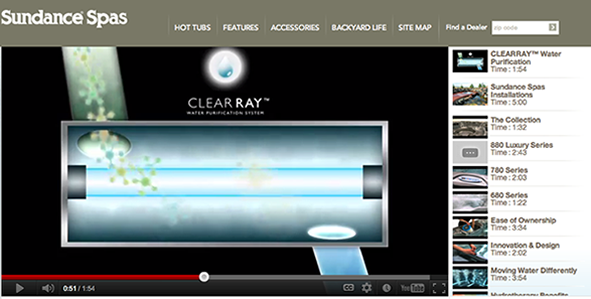 Enhanced Product Imagery
Even though browsing online has a ton of benefits and removes a lot of the hassle of making it to the store, there are some disctint disadvantages when it comes to being able to actually touch and feel a product.  In an effort to minimize this reality, we incorporated large, high quality product images wherever possible.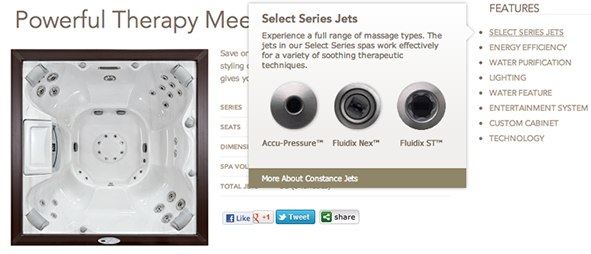 Prominent Calls to Action
If you spend 5 minutes on Sundance's website, you'll know exactly the types of actions they want their site visitors to take. Their main calls to action are featured on every page – encouraging action and making them very hard to miss.
Weather a user is watching an instructional video, or reading about their favorite hot tub model, the option to take the next step by 'Locating a Dealer' or 'Getting a Quote' is easy to find and just one click away.