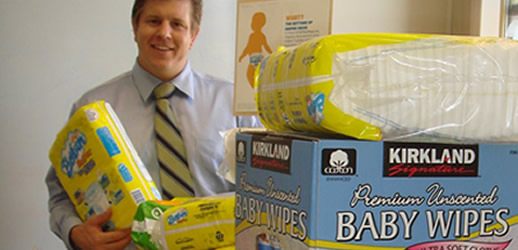 The drive at Ninthlink was a tremendous success thanks to all the kind people out there in San Diego who answered our call for help. People from all over San Diego donated diapers, baby formula, and toddler/infant toiletries such as combs, lotions, wipes, pacifiers, soap, shampoo, and other needed items.
The Bottoms Up Diaper Drive went from Monday, July 21st through Tuesday, July 29, where the Ninthlink Team's offices acted as a host for SAY San Diego.
SAY San Diego is a local nonprofit organization dedicated to supporting the positive development of young people, their families and communities in San Diego County. SAY's primary services include: Delinquency Prevention and Juvenile Diversion; Before and After School Programs and Licensed Child Care for school age children; Family Support and Development Services; Health Promotion Services; Community Development and Collaboration; School Readiness and Support Services; Child Abuse Prevention program; Drug Prevention Services and Mental Health Services. Call this award winning center if you experience any of the above.
The Bottoms Up Diaper Drive is an annual event and effort to aid families with small children and infants in need during the holiday season. The sometimes harsh but true reality is that there are many, many families here in San Diego that are in need year-round. The purpose of the drive is to hopefully make life a little easier for these families by providing essential items for the children that might otherwise, for one reason or another, be difficult to obtain.
Let's do it again next year and make another success!