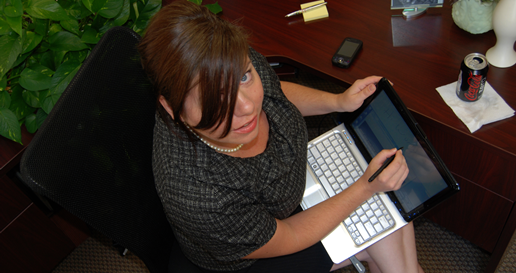 Digital Diaries Are Now an Important Part of Everyone's Lives
Language
Overheard at a singles bar last week: "Can I get your blog address?" instead of "what's your phone number?"
"Did you read Angie's blog entry last night? Her blind date went better than she expected…she even linked to his blog, where he said great things about her. What if they get married?' How did you two meet?' 'From our blogs."
The social networking aspects of blogging today are both astounding and, as Mr. Spock from Star Trek would say, "Fascinating." Blogging has not only altered the way human beings communicate with one another, but in some cases, has altered the use and process of language. Blog terminologies such as hyper-gossiping, dooce, link it, Google it, and twitter me are commonly used in every speech, outside the Internet.
Birth of the Blog
The term "weblog" was created by Jorn Barger on December 17, 1997. The short form, "blog," was coined by Peter Merholz, who jokingly broke the word weblog into the phrase we blog in the sidebar of his blog Peterme.com in May of 1999. Shortly thereafter, Evan Williams at Pyra Labs used "blog" as both a noun and verb ("to blog," meaning "to edit one's weblog or to post to one's weblog") and devised the term "blogger" in connection with Pyra Labs' Blogger product.
Blog usage spread during 1999 and the years following, being further popularized by the near-simultaneous arrival of the first hosted blog tools:
Open Diary launched in October 1998, soon growing to thousands of online diaries. Open Diary innovated the reader comment, becoming the first blog community where readers could add comments to other writers' blog entries.
Brad Fitzpatrick, a well known blogger started LiveJournal in March 1999.
Andrew Smales created Pitas.com in July 1999 as an easier alternative to maintaining a "news page" on a website, followed by Diaryland in September 1999, focusing more on a personal diary community.
Evan Williams and Meg Hourihan (Pyra Labs) launched blogger.com in August 1999 (purchased by Google in February 2003)
Blogging combined the personal web page with tools to make linking to other pages easier — specifically permalinks, blogrolls and TrackBacks. This, together with weblog search engines enabled bloggers to track the threads that connected them to others with similar interests.
Life of the Online Diary
The modern blog evolved from the online diary, where people would keep a running account of their personal lives. Most such writers called themselves diarists, journalists, or journalers. A few called themselves "escribitionists". The Open Pages webring included members of the online-journal community. Justin Hall, who began eleven years of personal blogging in 1994 while a student at Swarthmore College, is generally recognized as one of the earliest bloggers, as is science-fiction author and scientist, Jerry Pournelle. Dave Winer's Scripting News is also credited with being one of the oldest and longest running weblogs. Another early blog was Wearable Wireless Webcam, an online shared diary of a person's personal life combining text, video, and pictures transmitted live from a wearable computer and EyeTap device to a web site in 1994. This practice of semi-automated blogging with live video together with text was referred to as sousveillance, and such journals were also used as evidence in legal matters.
I have to proudly say that my husband, Marty Morrow, and I were among these pioneers with our couples cam site, giggle.cam. I was also dooced before the word dooce entered the English language, which was the subject of recent article the "City Lights" section of the San Diego Reader.
I started blogging on February 28, 1998, from gigglecam.com, "The Giggle Chronicles." Then I was invited to blog at livejournal.com, where I later became the media spokesperson. I liked livejournal because I didn't have to use HTML editing; I could use their online tools. Plus, you were part of a community – or digital village – so you could share with people all over the world.
Other forms of journals kept online also existed. A notable example was game programmer John Carmack's widely read journal, published via the finger protocol. Some of the very earliest bloggers, like Steve Gibson of sCary's Quakeholio (now Shacknews) and Stephen Heaslip of Blue's News (still running since 1995 with online archives back to July 1996), evolved from the Quake scene and Carmack's plan updates. Steve Gibson was hired to blog full-time by Ritual Entertainment on February 8, 1997, possibly making him the first hired blogger.
Websites, including both corporate sites and personal homepages, had and still often have "What's New" or "News" sections, often on the index page and sorted by date. One example of a news based "weblog" is the Drudge Report founded by iconoclast reporter Matt Drudge (Drudge also broke the Clinton/Lewinsky scandal on his blog).
By 2001, blogging was enough of a phenomenon that how-to manuals began to appear, primarily focusing on technique. The importance of the blogging community (and its relationship to larger society) increased rapidly. Established schools of journalism began researching blogging and noting the differences between journalism and blogging.
The second Iraq war was the first "blog war" in another way: Iraqi bloggers gained wide readership, and one, Salam Pax, published a book of his blog. Blogs were also created by soldiers serving in the Iraq war. Such "warblogs" gave readers new perspectives on the realities of war, as well as often offering different viewpoints from those of official news sources.
Blogging is also used to draw attention to obscure news sources. For example, bloggers posted links to traffic cameras in Madrid as a huge anti-terrorism demonstration filled the streets in the wake of the March 11 attacks.
Bloggers began to provide nearly-instant commentary on televised events, creating a secondary meaning of the word "blogging": to simultaneously transcribe and editorialize speeches and events shown on television. (For example, "I am blogging Rice's testimony" means "I am posting my reactions to Condoleezza Rice's testimony into my blog as I watch her on television.") Real-time commentary is sometimes referred to as "liveblogging."
Merriam-Webster's Dictionary declared "blog" as the word of the year in 2004
A Quick Timeline
New York Magazine recently provided this nifty Timeline of the Blog:
January 1994
Swarthmore student Justin Hall creates first blog ever, Links.net.
December 1997
Online diarist Jorn Barger coins the term "Weblog" for "logging the Web."
February 1998
GiggleCam.com goes online and immediately crashes backbone servers due to high traffic. The webcam revolution begins.
April 1999
Programmer Peter Merholz shortens "Weblog" to "blog."
August 1999
Blogger rolls out the first popular, free blog-creation service.
January 2000
Boing Boing is born.
July 2000
AndrewSullivan.com launches.
February 2002
Heather Armstrong is fired for discussing her job on her blog, Dooce. "Dooced" becomes a verb: "Fired for blogging."
August 2002
Nick Denton launches Gizmodo, the first in what will become a blog empire. Blogads launches, the first broker of blog advertising.
December 2002
Talking Points Memo highlights Trent Lott's racially charged comments; thirteen days later, Lott resigns from his post as Senate majority leader.
December 2002
Gawker launches, igniting the gossip-blog boom.
March 2003
"Salam Pax," an anonymous Iraqi blogger, gains worldwide audience during the Iraq war.
June 2003
Google launches AdSense, matching ads to blog content.
August 2003
The first avalanche of ads on political blogs.
September 2003
Jason Calacanis founds Weblogs, Inc., which eventually grows into a portfolio of 85 blogs.
January 2004
Denton launches Wonkette.
March 2004
Calacanis poaches Gizmodo writer Peter Rojas from Denton. Denton proclaims himself "royally shafted" on his personal blog.
December 2004
Merriam-Webster declares "blog" the "Word of the Year."
January 2005
Study finds that 32 million Americans read blogs.
May 2005
The Huffington Post launches.
October 2005
Calacanis sells his blogs to AOL for $25 million.
December 2005
An estimated $100 million worth of blog ads are sold this year.
January 2006
Time leases Andrew Sullivan's blog, adding it to its Website.
February 2006
The Huffington Post surges to become fourth most-linked-to blog.
Today
Technorati currently states it is tracking over 112.8 million blogs, and that does not include the 72.82 million Chinese blogs as counted by The China Internet Network Information Center. Blog statistics often concern the English language blogosphere, so this number is always changing. Thousands of new bloggers sign up for free blogs at Myspace, Facebook, Livejournal, Blogger.com, WordPress, and elsewhere each week.
Today, I help companies and individuals set up blogs for the workspace through my position at Ninthlink.com, one of the fastest growing Internet companies in Southern California. My experience with blogging, as the SD Reader article notes, goes back to the beginning of this social and cultural phenomenon, so I consider myself somewhat an expert on the art of the blog – especially the workspace blog.
So the question is: to blog or not to blog?
Answer in the comment box below, or blog about it and send me a link.