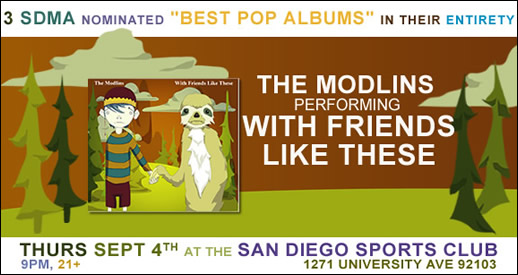 click the above image for the full poster
Yes, tonight, at the San Diego Sports Club, on University Ave, a few blocks west of Park, Ninthlink's own Alex Smith (me (hello!)) and the rest of the Modlins will be playing their San Diego Music Awards' Best Pop Album-nominated With Friends Like These, in its entirety, starting at 9pm. Also playing tonight, after The Modlins, are some of their competitors in the Best Pop Album category : Joanie Mendenhall will be performing her album On A String, followed by Matt Curreri & The Exfriends closing out the night with a full performance of their Joy Of Life. While the Best Pop Album category is one that only the judging committee can decide on, what better opportunity than tonight for you to listen and make your own decision about the judges'… decision.
And tomorrow night?
The Modlins return to the Knitting Factory in Hollywood (poster here), to help celebrate their friend Justin Riner's birthday. Justin plays in the band Loverlee, who will also be rocking that night, and the two aforementioned bands will also be joined by The Bentleys, Jane Error, Calamity Magnet, and Enid The Dowl, with DJing in between the sets, provided by Squaregirls. That show starts early, at 7:30pm, and is all ages, so if you have any younger siblings/friends/cousins/nieces-and-nephews who have been in need of a Modlins fix, but unable to attend a 21+ show, what better time than now ("now" meaning "tomorrow night")?