Ok, so by now, you must have heard of Google Chrome, and maybe you even checked it out for yourself. Wait, let me start over. What I meant to say is, if you haven't heard of Google Chrome by now, you, like Ninthlinker Matt Stallings, must have been off visiting your mother-in-law for the past week. I mean, yesterday at 8:30am my grandfather left me a voicemail (too early for me to answer the phone) about how I needed to go out and buy the Union Tribune to read an article on the front page of the Business section, section a…b…C , all about it. So today I installed it as well, partly out of curiousity (it already has some 3% of the browser market share, after a few short days), and more out of fear that I would have a whole other browser to worry about making sites compatible for. Luckily, clicking around the Google Chrome little site, as it was installing, i saw this note, that comforted that fear:

Which leads me to more thoughts. After I installed it, first thing I wanted to see was how some Google Apps work in their home turf. So I fired up Google Reader, which I (finally) started using just a few weeks ago, opened a link to the Official Google Reader Blog (who knew?) in a new tab, and then went to another New Tab, and immediately let out a "whoa!"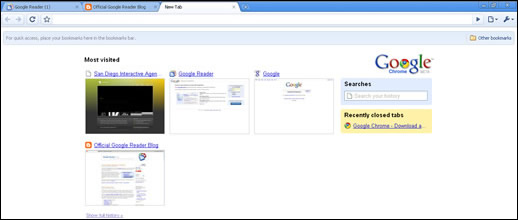 In that New Tab, I could go to other pages I'd Most Visited. Pretty handy. But that screenshot had a bunch of whitespace, so I resize the window, and "whoa!" again, the thumbnails resized themselves. 2 Points for Chrome.

By now I was inspired to write this article, so I went to this here Ninthlink Blog, and that was the first disappointment I've had. No more nice sIFR-ing. I understand that when you check out the develop section, it should give you the "Building Innovative Solutions" message. But that message doesn't need to appear twice. Also, in typing this up, WordPress's Add Media feature, which appears in a lightbox/thickbox/cool way, doesn't seem to work either. So I'll have to switch back to Firefox for the pictures. Which means I probably won't be switching primary browsers any time soon. But once those bugs get un-bugged, well, yea.
Does this mean that I think stock in Google will go up? In my humble, expert opinion, the answer to that is still a maybe, but what I think will go up, is stock in Chromeo. Oh yea.