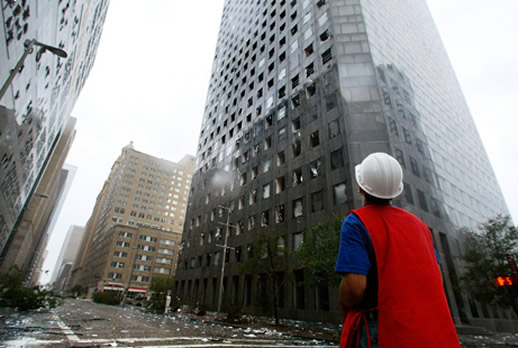 Hurricane disaster hits home
"Hurricane Ike's death toll in the U.S. is up to 55 as authorities on the Texas coast are reporting six more fatalities from the storm… Galveston County Medical Examiner Stephen Pustilnik says Wednesday that crews have found the first five victims on Galveston Island and another in Brazoria County. Authorities have said they expected to find bodies in Galveston… Most people in the fourth-largest U.S. city of Houston remained without power, making it tough to track the latest information on where to pick up supplies. For most, the electricity wasn't expected back on for at least another week." (From the Associated Press)
Personal Connection
The memories of Hurricane Katrina in 2005 are deeply embedded in the collective American consciousness. This time each year, hurricanes seem to become stronger and more devastating. Now Ike has hit Houston, Texas. I am from there, so even though I live in San Diego, Ike has hit home for me. It's been over 10 years since I've lived in Houston but my family lives there.
Their updates:
My father lives in The Woodlands and has sustained no major damage. His electricity is off and relying on a gas generator. One brother lives in Tomball and is a fireman—he's running around
town saving lives. No major damage to his house. One brother is hauling a gas truck around town. He lives in Spring. No major damage to his house. My mother is out of town and the airports are closed. She is scheduled to return tomorrow but we don't see that happening, realistically. Sister-in-law lives in the Galleria and haven't heard from her. Brother-in-law lives past Sugar Land and haven't heard from him. Father-in-law lives in Briar Forest. He lost his roof. His office lost its free-standing neon sign along the 59 freeway. His other properties around town seem to be okay. Mother-in-law lives in Missouri City and haven't hard from her.
Today update:
I spoke with my mother. She is home now. Came home yesterday from DC. Their electricity is still not on. My brother Jeff brought over a generator and a 50-gallon tank filled with gas to supply the neighborhood.
I spoke with Marty's (my husband) mother in Missouri City and her electricity is still out. She has a motor home and is living out of it at the moment.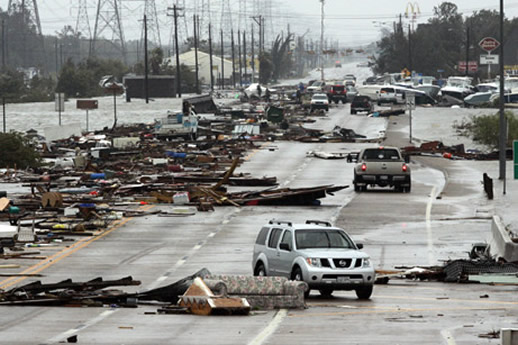 How We Can Help
Right now, President Bush is touring the area and will declare the area a Federal Disaster, which will bring in millions of dollars to help people through FEMA and other government programs. But things are dire there. Newsday reports, "Ike's survivors have walked for miles and waited for hours at supply distribution centers, gobbling up all that was offered: 1 million bottles of water, 1 million meals and 600,000 pounds of ice in the first 36 hours after the storm passed. It's not enough, and those dispatching truck after truck to distribution centers know it. One center near Houston drew 10,000 people Monday in search of food and water."
Other reports about heath risks are coming in. The people in Texas need help…how can we help, from San Diego?
Prayers are good, but donations to the Red Cross and the Salvation Army are tangible ways to give help. Sites such as Direct Relief and PaybyWeb also exist, but before you donate to any relief site, or answer a phone call from one, make sure it is legitimate and that your donation will go to the hurricane victims—there are too many crooks out there waiting to take advantage of the good will of others.
In the near future, clothing and canned food items will be collected and sent to Texas, so that is something to keep in mind as well.