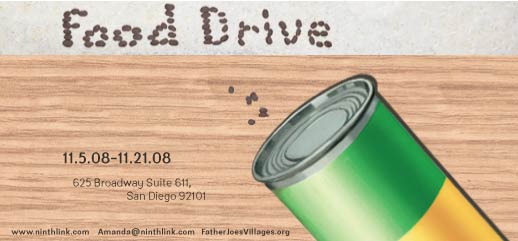 Saint Vincent De Paul's Village was started in 1950 as a small operation handing out peanut butter sandwiches to homeless. In 1982, Father Joe of Father Joe's Villages decided something more was needed than a "band-aid" approach of serving lunchtime sandwiches on weekdays. The opening of the Joan Kroc Center in 1987 marked the beginning of St. Vincent de Paul Village. St. Vincent's helps people earn GEDs, train on computers, find jobs at Village employment fairs, receive medical and dental care, and take charge of their own destiny. Children learn at the on-site county-run elementary and high schools.

Our Goal
From Wednesday November 5th to Friday November 21st, Nithlink will be collecting un-opened, non perishable food items to be donated to Saint Vincent De Paul's Kitchen of downtown San Diego. Our goal for this is 200 items which may sound like a lot: it is a lot, especially to those who will be recieving the donations. But for us to donate, its really not that much. If everyone who comes into Ninthlink on a daily basis brings just 10 food items, think of how many lives we can help improve! Just because we have a goal for 200 doesn't mean we need to stop there, this is when your help comes in! If you will be dropping by the office or in the neighborhood this month, we hope you will stop by and participate in the drive.
After our food drive is over, on Friday November 21st at 4pm we will have a group of volunteers help in the Saint Vincent Depual kitchen to serve food, organize donations, etc. There are 12 volunteer spots for our group total and we currently have 6 spots available. If you and your family and friends are interested in joining us, email me at [email protected]. It will be a great way to help others and after all, it is the season of giving. We hope to see you there!