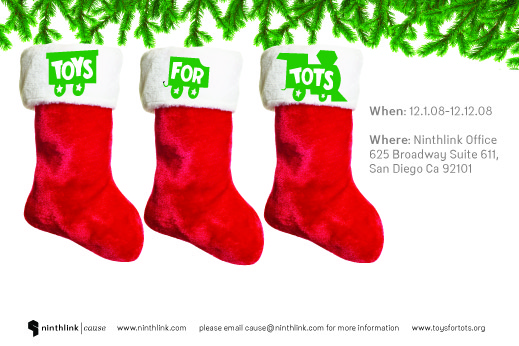 The holidays are officially here; the air is crisp and children of all ages wait with anticipation for what Santa will bring. Most children run into their living room Christmas morning to find an endless sea of toys and games. Some children, however, are not so lucky. In the United States, it is estimated that 15 million children live in poverty. These children's families cannot afford to give them the Christmas that they deserve, but with your help Toys for Tots can.
The Marine Toys for Tots Foundation, an IRS recognized 501(c) (3) not-for-profit public charity, is the authorized fund raising and support organization for the Toys for Tots Program. The Foundation has been providing the funding and support needed for successful annual toy collection and distribution campaigns since 1947 and has collected 386,000,000 toys and brought the joy of Christmas and a message of hope to more than 181,000,000 children.
Ninthlink Cause's Toys for Tots drive will be held from today, December 1st, through Friday December 12th. Our goal is to collect 50 toys, but we don't want to stop at this number. The children need our help, lets make it the best Christmas they have ever had!