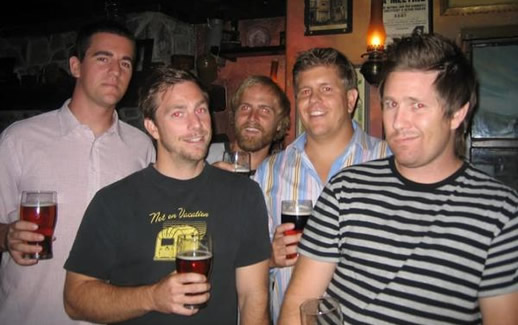 Yes, contrary to popular belief, we here at Ninthlink have been known to enjoy a nice ale from time to time. And what better place to do so than this weekend, at Pizza Port Carlsbad's 12th Annual Strong Ale Festival?
Starting at 4pm this Friday the 5th, and at 11am on Saturday the 6th, continuing until 11pm both days, "adjacent to Pizza Port Carlsbad located at 571 Carlsbad Village Dr just 1/2 mile West of I-5 in the Village of Carlsbad," $25 gets you admission + 8 tickets for tasters of your choice from the close-to 75 different beers, all above 8% alcohol.

So its really like a Win-Win-Win situation, where I also win, having successfully mediated a conflict. Or something.
Also, that first picture has nothing to do with this festival, but it does have something to do with me, Craig, Jeromy, Matt, and nlk-emeritus Mitchell downtown at The Field. Also, that might be one of the few remaining pictures of Jeromy without a tie on. Happy Tuesday.