This week, our very own Matt Stallings will be contributing artwork for Murphy Fine Art Editions, that will be exhibiting 92 inspired artists presenting more than 100 paintings installed at the Gen Art Vanguard Fair during this year's Miami Art Basel . Gen Art will be presenting unique panel discussions and a blow out preview party on December 4th . The exhibition continues through December 7th.  Murphy Fine Arts Editions and its artists will show at:
Charcoal Studios
2135 NW 1st Ave
Miami, FL 33127
Wynwood Arts District
www.charcoalstudio.com
Art Basel Miami Beach is one of the most important art show in the United States, and "a cultural and social highlight for the Americas." It is the sister event of Switzerland's Art Basel. Art Basel Miami Beach combines an international selection of top galleries with an exciting program of special exhibitions, parties and crossover events with music, film, architecture and design. Exhibition sites are located in the city's Art Deco District, walking distance of the beach and many hotels.
"The exhibiting galleries are among the world's most respected art dealers, offering exceptional pieces by both renowned artists and cutting-edge newcomers," states the event's website. "Special exhibition sections feature young galleries, performance art, public art projects and video art. The show will be a vital source for art lovers, allowing them to both discover new developments in contemporary art and experience rare museum-calibre artworks."
This is an important showing for Murphy Editions. "Gen Art Vanguard Fair was created by Francesco LoCastro a couple of years ago," says Mark Murphy. "Last year, Murphy Fine Art Editions received a bunch of press for the booth created for the Art Now Fair while promoting 68 unique paintings. This year, Murphy Fine Art Editions was selected to participate at the Gen Art Vanguard Fair, and will be promoting over 100 paintings and 92 artists. This is a great opportunity to showcase living artists and introduce the public to emerging talent important to the fabric of the art community at large."
One of the artists, Ray Ceaser, is interviewed here.  Another, Jay Soto, is interviewed here. Much of the fine artwork that will be on exhibit can be viewed at mark Murphy's blog. The high quality volumes of original art from Murphy Design can be purchased at the website.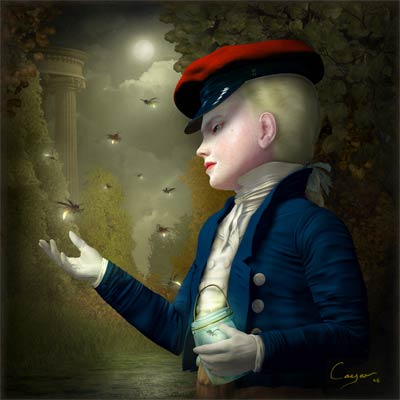 Future plans for the publishing company? "Create a foundation that can actively archive living artists, create endowments for the arts and ultimately house fine works of art in a museum structure for all to see," says Murphy.