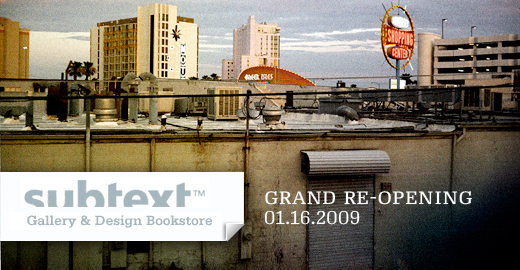 January 16th – February 15th, 2009
Opening Reception: Friday, Jan. 16th, 6-10pm, Live Music from The Traditionist at 9pm
Our friends in the design and art community Subtext just moved. We are extending their open invitation to check out the new bigger, badder, and music friendly space located at 2479 Kettner (on the corner of Kettner & Laurel across from the Casbah). Don't miss this opening show featuring Frank Rogozienski. Frank started 366 | 08, his "Picture a Day" project, in January of 2008. His goal? Simply capture 366 images (it's a leap year) one day at a time. One year later, he's done just that. From back alleys, to portraits, to cityscapes, to dead flies, he's managed to capture (and feature) a single image each day on his blog.