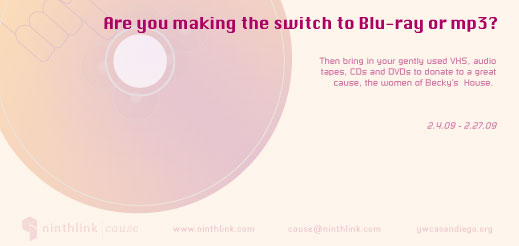 CDs, VHS, audio tapes and soon even DVDs are becoming obsolete due to the new technologies of today. I can't even remember the last time that I listened to a CD other than when I was transferring the songs to iTunes! And slowly but surely I am replacing my DVDs with Blu-ray disks, who wants to watch the standard version when you can enjoy the film in high definition? If you have extra DVDs, CDs, VHS, audio tapes, or records hanging around your house collecting dust, we will donate them to a wonderful cause were they will be enjoyed often: Becky's House.
Many women and children seek the safety of Becky's House for 30 days (emergency shelter) or 18 months (transitional housing) to escape dangerous situations and determine their next steps. Ninthlink Cause wants to help the YWCA make Becky's House a comfortable place of transition for these families. Listening to music or watching movies are relaxing activities that the women and children can enjoy during their stay and are great ways to take their minds off their worries.
From February 4th until February 27th, we will be accepting gently used DVDs, CDs, VHS, audio tapes and records in honor of the families at Becky's House. Our goal is 30 items and the drive will be held at our office, 625 Broadway Suite 611, San Diego. Thanks for your help, it is always appreciated! If you cannot make it into the office to donate the items, you can always drop them off at the YWCA, or donate your time or resources.