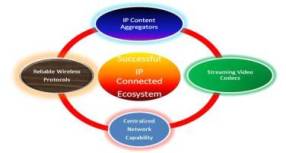 The steady development of a "healthy IP-connected ecosystem" has progressed to the point that it can support an equally healthy market for IP-connected devices, says MultiMedia Intelligence.
The research firm projects that 244.5 million IP-connected devices including set-tops, DVD players and other AV equipment will be shipped by 2013, allowing users to, among other things, easily download, share and view web video.
They predict future homes to be fully IP-Connected room to room.
 
User generated content consumption will continue to grow as US internet users plug into the world of blogs, social networking and UGC video, according to eMarketer.
Blogs had the highest rate of engagement in 2008, with 54% of the US internet user base consuming this content. Social network users made up 41.2% of the base while user-generated video viewers represented 36% of users.
 
US User-Generated Content Consumers by Content Type 2008-2013 (% of internet users)
Genre                 2008    2009    2010    2011    2012    2013
UG video             36.0% 39.8% 42.5%   44.8%  47.2% 49.2%
Social networking 41.2    44.2    46.9       49.1    50.5    51.8
Blogs                   54.0    58.0    61.0       64.0    67.0    69.0
Wikis                   33.9    36.6    39.0       41.0    42.6    43.9
UGC consumers    60.0    62.0    64.0       66.0    68.0    70.0 
Source: eMarketer