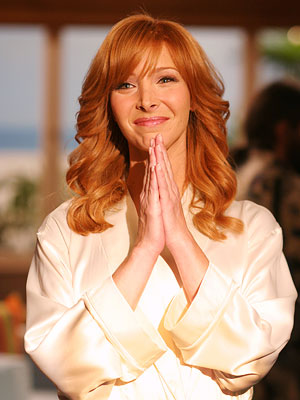 Ad models, distribution schemes and syndication techniques are essential  to the success of the newbie online video venture.  But what  about  delivering good quality content that defines the medium, who could argue with that? — yet many seem to not "get it," whereas other do.
Former Friends cast member Lisa Kudrow and her team "get it" and have succeeded in delivering a quality web show; she returns on June 29 with a second season of the nifty improv comedy series Web Therapy. The show will be accessible on YouTube, Hulu and LStudio.com, the broadband entertainment channel launched by Lexus.
Kudrow plays a shrink, Fiona Wallace,  who says more inappropriate things and is more self-centered than her narcissitic patients. The first season of 3-minute therapy sessions were so well received that the show  won a Webby Special Achievement Award.  Now an assortment of Kudrow's acting co-horts  have agreed to take the couch this season including Courteney Cox, Alan Cumming and Steven Weber.
This is definitely a show worth learning from, for anyone who is considering online entertainment as a business avenue.  Mixing entertainment with intelligent humor always gets the good laughs, and repeat viewers who recommend the content to their friends. We call this relevance.