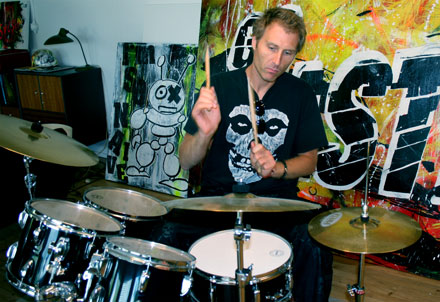 We are pleased to announced that this Friday, July 24, fro  6:30PM – 12:30 AM,   the long-awaited and exclusive launch party for Planet Illogica, Inc. and planetillogica.com will happen during the ComicCon events.
This inspired event will feature fine artists, performance artists, the culinary arts, film, live music and new friends. Tyler Bates — composer of 300 and Watchmen — performs live on the main stage with members of Jane's Addiction, Beck, Alanis Morrisetteand more, much more…
Also: Live painting demonstration featuring Ron English, "SuperHero" exhibition featuring inspired artists from around the globe, VIP rooms, exotic Sushi and food offered by the Tractor Room and Hash House a Go Go And…a unique tastemaking set and unique photo booth sponsored by www.instaflashphotobooth.com and Golden Apple Comics.
The event sponsors  include Best Buy,  EMP, Golden Apple Comics, Guitar Center, IcelandicWater, Sony, Southwest Airlines,  planetillogica.com and,  Ninthlink.com, Murphy Fine Art Books, Just Taste It Catering, Wonderhaus, SVEDKA Vodka, Monster, Anheyser-Bush, Plush Lounge, Sushi on a Roll.
Now, where will all this fun be going on?
It will be held at the Wonderhaus Building at 1600 National Avenue (between the 12th and Imperial trolley station and St. Vincent de Paul's).
The Wonderhaus has a rich San Diego history – once the Wonderbread Warehouse when the area was a major produce distribution point, it has since been used for site-specific theater and the location for many films and TV shows shot in San Diego.
[Image: Tonny Sorrenson on drums, from www.rahbaek.com]