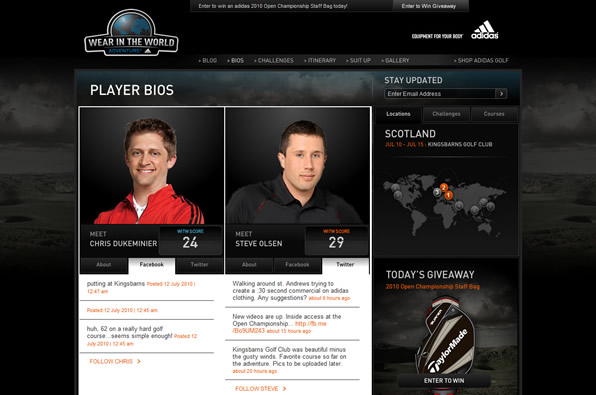 The competition has been on for two and a half weeks, and three countries, now, and we are still adding more and more goodness to this edition of adidas Golf's Wear In The World site. This time around, the Twitter and Facebook tabs on the homepage, as well as under each competitor's Bio, is pulling Facebook and Twitter streams straight in to the site. As of posting this, Chris has 243 "Likes" on his FB page, and 80 followers on Twitter, while frontrunner Steve (who claimed victory at both of the first two locations) has 369 Likes and 90 followers.
The back end heavy lifting is done via WordPress's fetch_feed method, which itself uses SimplePie as a backbone to pull in any RSS/Atom (either/or) feed for display across the site, while also incorporating FeedCache so the WP site can store the latest feeds, from Twitter or wherever, locally, rather than having to make a call to Twitter.com every time any visitor loads a page with that feed on it.
And all of that, of course, is in addition to the rest of the site that is already pulling in Vimeo videos, Picasa pictures, and providing a platform for the globetrotting golfers to get their blog on. Game on!