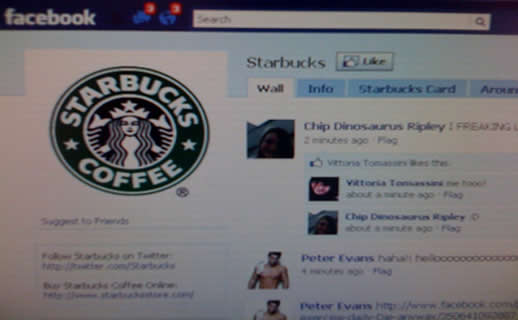 With an astounding total of over 10.1 million fans, Starbucks is easily the most popular brand on the social networking site, ahead of its closest competitor (Coca-Cola) by more than 2 million.  They've obviously found a recipe for success in the social media realm and their tactics can be applied to more social media avenues than just Facebook.
There are a few strategies being used by Starbucks here, which can be applied to any social media outlet and SHOULD be part of any attempt at getting the most out of a social campaign.
1.  Visibility: Let's face it, if your consumers can't find you and connections aren't made, a successful campaign is impossible. And if your only focus is on building capital and you are someone who says 'I need money now', then you might as well forget business. By focusing on social media as part of a broader marketing mix, Starbuck's has gotten the word out about its Facebook page.  This, along with advertising on the social networking site has helped to provide a seemingly never ending stream of visitors.
2.  Engagement: In our everyday lives, no matter how hard we try, it's impossible to get away from advertisements.  For the most part they are obtrusive and people are quick to tune them out.  If a company uses its social media presence strictly to try and sell or push new products, it too will surely be tuned out.  Consumers aren't going to pay attention to any social media presence if that is all they are going to get.  Knowing this, it's important to engage people with other topics as well, which helps to build trust and strengthen relationships.  Although Starbucks does announce new products and keep people up to date on in store offerings, it is by no means the focus of their resources.  They use topical discussion pieces to start conversations, the World Cup for example, and have recently promoted important social/environmental issues, such as the roll out of their recycling initiative in Seattle and other major cities across the country.  They even post user- generated pictures (over 4500 have been submitted/posted).  All of which creates a sense of community and personal involvement.
3.  Generosity:  Everyone loves freebies and coupons.  This above all else, may be the reason behind the surge in Starbuck's popularity.  By consistently providing something of value (for free), any company can encourage people to gravitate towards their offerings and ensure people will keep coming back.  This was evident last July, when Starbucks added 200,000 fans in one week during a promotion, which allowed fans to print out coupons for a complimentary treat with a the purchase of a drink.
Not that there isn't more involved in successful social media campaign, but if you can accomplish at least these 3 things, you'll be on the right track.
Please share your thoughts about what you are doing to Promote and Grow your business online. Or ask our Ninthlink Pros how to help.