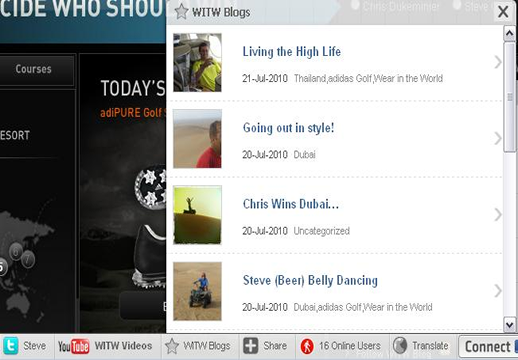 In an effort to get more site traffic, promote content and increase interactivity with adidas Golf's Wear In The World Adventure, we added a sweet web toolbar from Wibiya.  It's super easy to implement and very user-friendly.
This is a great addition for any website or blog.  The toolbar itself is customizable, with more than 40 applications to choose from in a variety of categories including chat, video, sharing, social media and more.  All of which are designed to increase the amount of time spent on your site as well as the interest it generates.
The great thing about this toolbar is the fact that all of the applications are directly on your site at all times and users can take advantage of them all without ever having to leave the page.
The Apps we are currently using on WITW:
Facebook and Twitter: pulling in real time activity from Fan Pages and tweets
YouTube: fully supported, 3D, comprehensive video gallery
WITW Blogs: Window displays most recently posted blogs
Share: allows users to spread content through various social media channels
Translate Tool: translates any page without having to reload it
Connect: allows people to access their social media profiles directly from the page
And my personal favorite …
Real Time Users: which displays your sites' stats and shows the number of online viewers as well as their location on a dynamic Geolocation user map.
As far as costs go, there is a reasonable monthly fee, however Wibiya offers a free 30 day trial and a variety of plans to choose from depending on your needs.
Please share your thoughts about what you are doing to Promote and Grow your business online.  Or ask our Ninthlink Pros how to help.