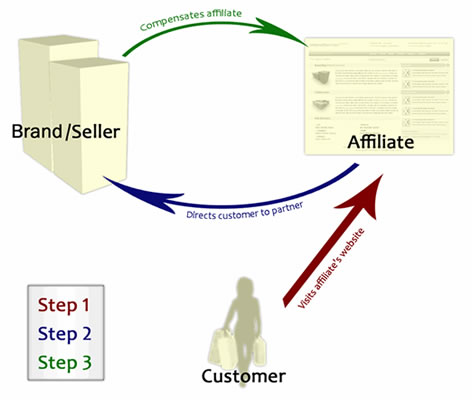 Affiliate Marketing is an online advertising technique in which a business rewards an affiliate for each visitor or customer brought to it by the affiliate's marketing efforts.  The idea behind the affiliate program is simple: other sites link to yours and you pay them for each customer they send your way, a percent of the customer's purchases, or for completing any other desired action; it's the equivalent of a modern day finders' fee.
Affiliate marketing involves two parties; merchants (aka advertisers and retailers), who have products and services to sell and are looking for additional customers, and publishers, who are independent parties that host links, banners, product and promotional information about your offerings on their website or blog.  It's a true match made in heaven.
The best aspect of these programs is the fact they are performance based, meaning merchants only pay their affiliates when the desired action, such as a sale or newsletter sign up is performed.   A tracking system is used to match incoming users to the site that referred them. Affiliate programs are best suited for, and most often used with e-commerce sites, however, they can be put to use for other sites as well.
The Benefits for Merchants and Affiliates:
Merchants are able to extend their reach and gain access to potentially millions of new customers who otherwise would not have found their products and services.  Additionally, the cost of such marketing efforts is relatively low in comparison to other techniques.  Instead of paying for impressions and eyeballs, you only pay for results, which directly benefit your business.
Affiliates on the other hand have a pretty sweet deal as well, almost too good to be true.  They simply promote another business's products and services and collect money for each transaction or lead they help generate.  While this may sound easy enough, it takes a lot of hard work to succeed as a third party publisher, relying solely on affiliate revenue.