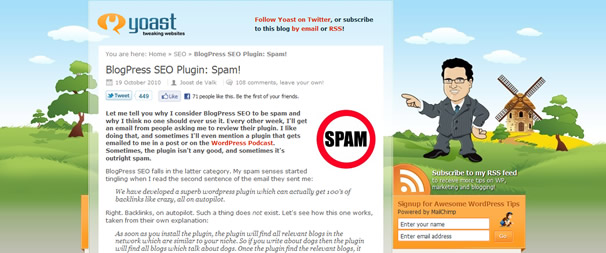 There are a lot of great WordPress plugins out there: Spam-blocking plugins, easy Contact Form plugins, plugins that let you interact with GChat, plugins to promote social interactivity, plugins to make WP load faster, plugins to pull in photo galleries from Flickr, plugins to create your own photo galleries… I could go on and on. But sometimes, there are also bad WordPress plugins out there. This morning I stumbled across a story from Yoast on how they discovered just how bad the BlogPress SEO plugin really is.
It turns out that, besides encouraging participation in the frowned-upon practices of link scheme-ing and buying links, the plugin also sends your admin email to the plugin's developers, and creates a backdoor, so that they can sneak in to any WordPress site which is running the "superb wordpress plugin" (their words, not anyone else's).
We have never used the BlogPress SEO Plugin here. I have been a strong proponent of the All In One SEO Plugin for keywords / metadata for a while now, and thats all I would recommend. Our buddies over at SD Interactive have a great article on 9 (legitimate) Link Building Strategies, and if that is not enough to get whatever job you are trying to do, done, then I think maybe you are doing something wrong.