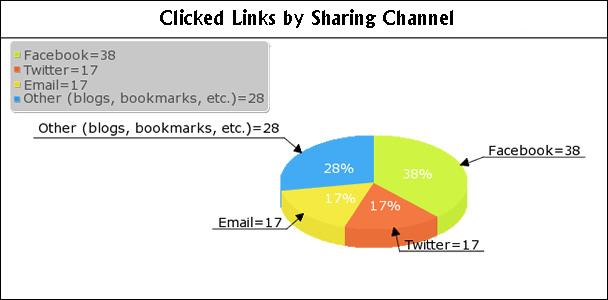 ShareThis, maker of the largest sharing platform on the web, led the most comprehensive study of online social sharing to date in conjunction with Starcom MediaVest Group to try and figure out exactly how much sharing occurs online.  In order to accomplish this they looked at the sharing and clicking habits of more than 300 million people a month who shared more than 7 billion links with a ShareThis button across the top 1,000 publisher sites using the platform. Here is what they found…
The study highlights how sharing stacks up when compared to search in efforts to generate traffic for websites and brands, how people share unique types of content across various types of social channels, and how sharing gives all users the potential to be influencers.
The first comprehensive study on sharing revealed that overall:
The total percentage of shared links by channel (some content is never clicked on)
– Facebook accounts for 56% of all shared content online
– Email accounts for 15%
– Twitter is at 8%
The percentage of shared links that are actually clicked on:
– Facebook accounts for 38% of all sharing referral traffic
– Email and Twitter tied for 2nd wtih 17% each
The Big Takeaways
1.  Sharing is bigger than friends, fans and followers
– Sharing generates almost half of the traffic for websites and brands that is created by search.  Sharing is responsible for an estimated 10% of all internet traffic and 31% of all referral traffic to sites from search and social.
2. Everyone is an influencer
– the study found that many people are influential on only one or two topics, and usually only share if the subject is important to them.
3. Sharing is about scale, not virability
– on average, shared links are clicked on 4.9 times each across all sharing channels.  Content shared by large groups of people reach a wider audience than content passed along from others.
– links aren't as likely to be clicked on beyond the original group of people they are shared with.  Meaning if I know you and share a link, you'll probably click on it.  However, if I pass that link on to people that I know, but don't know you, the chance someone will click on the link is greatly reduced.
SMG's SVP/Human Experience Centers, Jeff Flemings notes that, "Sharing is a critical aspect of creating meaningful human experiences today. Getting large groups of people to share content, reactions, and updates with others in their social network at scale is a marketing must, but people only share what's important to them, so it's essential to have a deep understanding of what people are sharing and why."
How 'shareable' is your content??  Contact Ninthlink for search and social strategies to improve the quantity and quality of your site traffic.