We brought Jacuzzi's online presence in line with their recent, offline rebranding efforts. Highlights include an updated navigation structure for improved usability, pervasive calls to action and some cool new features.
Jacuzzi Hot Tubs recently made some major changes to their brand image and they now have the website to support it.  With a dark color scheme and rich visuals throughout the site – we're able to highlight Jacuzzi's quality of design & engineering – major reasons why Jacuzzi is and always has been the industry leader.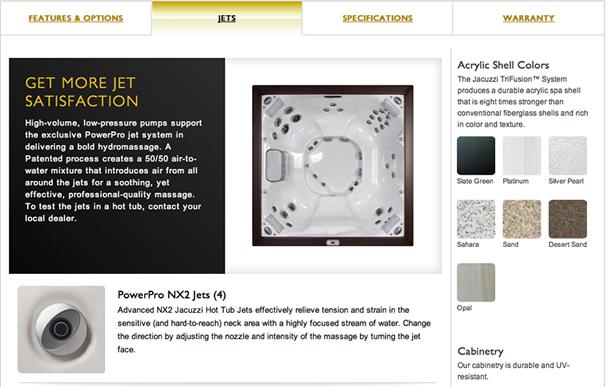 In keeping with our focus on user experience and making site navigation as easy as possible – we've given users product images & limited details right from our navigation window – a term coined internally as 'Navication', a blend of navigation and education – all without having to leave to any page in particular.
Instead of simply organizing products by Collections (which is still an option) – we've allowed people to search by the size they're looking for, whether it be a romantic escape for 2 or getting the whole family together for some quality time – users will have no problem finding the model best suited for them.

Another addition to Jacuzzi's site is the inclusion of  an interactive, floating footer bar, which is present throughout the site, scrolls with users as they navigate up and down each page, and contains our most important calls to action, including requesting an appointment, locating a dealer, getting a quote, receiving a brochure and connecting with Jacuzzi's various social media offerings – all of our most important conversion metrics. $10 deposit casino
Jacuzzi's new site includes some interactive features, such as a Video Gallery, to give consumers instant access to information on the latest Jacuzzi innovations, how-to videos, and other exclusive content, in addition to a Customer Showcase, allowing Jacuzzi owners the opportunity to submit their own hot tub setups – to be featured on the site.
Our favorite interactive addition, which is currently in the final stages of development is the Backyard Designer™, which lets users upload a photo of their backyard (or anywhere else they can imagine putting a hot tub) and then play with the positioning of their favorite hot tub model to get a preview of what their space will look like – complete with a brand new Jacuzzi Hot Tub.