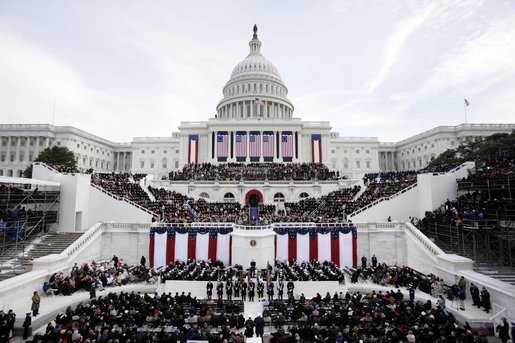 Today is Inauguration Day, the swearing in of the 44th President of the United States, Barack Obama.  The official theme for the 2009 inauguration is "Renewing America's Promise."
The oath of office will be administered to the President-elect and the Vice President-elect on the steps of the United States Capitol in Washington, DC today,  Tuesday, January 20, 2009 beginning at 11:30 a.m.
It wll broadcast all over the nation and world on just about every major TV and interet channel there is.
Obama is truly the President of the Internet age.  While Al Gore may have "invented the Internet" as sometimes joked about, 2009 is the year of paradigm shifts in the way people interact socially, culturally, and commercially online.
DC is aswarm with hundreds of thousands, if not millions, of people, who want to be there for this changing of the guard, and this historical moment, with the first African-American President to take the office.
For past several days, there have been celebrations and concerts at the Lincoln Memorial, with Bruce Springsteen, Beyonce, Garth Brooks, U2, and Steve Wonder performing.  HBO paid $2 million for the broadcast rights; the music can be heard and seen on HBO's special, We Are One.