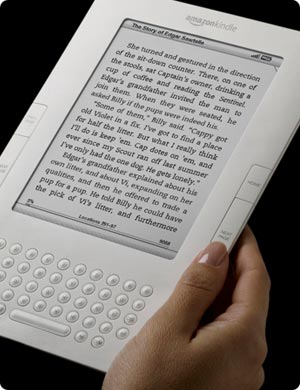 Amazon held a big to-do at the Morgan Library Museum in New York yesterday to unveil its next generation eBook reader–the Kindle 2!–which will begin shipping from Amazon on February 24.
One of the most hotly anticipated consumer electronic devices since the iPhone, the new Kindle adds some attractive new features including a much thinner profile, longer battery life, a crisper display and text-to-speech capabilities powered by Nuance that will allow readers to have books read to them by a computerized voice. The user interface is also much improved, featuring easier-to-peck round keys and a joystick controller used to move the cursor.
Sharing text between the Kindle and a range of mobile devices will also be possible using a new "Whispersync" feature. Content offerings for the Kindle have steadily improved, from 90,000 book titles at launch to a current 230,000 books, 1,200 blogs and dozens of daily, weekly and monthly publication subscriptions, delivered wirelessly to users who pay the subscriptions fees.
Kindle 2 starts at $359 retail.
Kindle and Sony Reader will soon have another competitor, though. A start-up called Plastic Logic is working on an eBook reader of its own, featuring a larger screen geared specifically toward newspapers and magazines. It is planned for commercial release next year. The company has announced several content partnerships to supply the device with electronic subscriptions including all digital publisher Zinio and LibreDigital, an aggregator that produces electronic versions of The New York Times, USA Today, Los Angeles Times and the Washington Post.