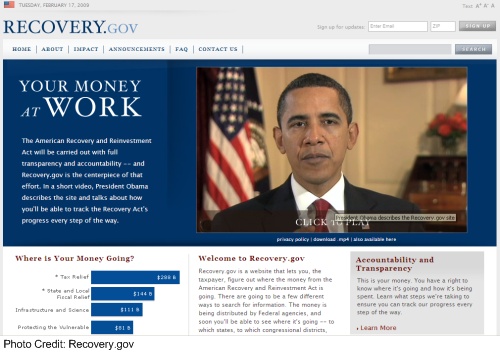 After President Obama signed the massive $789 billion stimulus package into law, the White House has followed through with its promise to promote transparency and include voters in the spending process.
Joining a bunch of independent efforts to monitor spending the officially sanctioned Recovery.gov is designed to track authorized expenditure from multiple agencies on transportation infrastructure, broadband deployment, science, education and targeted tax relief.
"Instead of politicians doling out money behind closed doors," the President explains in a video address, "the important decisions about where taxpayer dollars are invested will be yours to scrutinize."
 The site's FAQs promise data will eventually be available in an exportable format such as XML, conceivably enabling third-party developers to produce their own mashups and gadgets.
 As funds have yet to be allocated, there's not much to peruse here yet. But the site is already accepting user-generated content via a "Share Your Story" page.