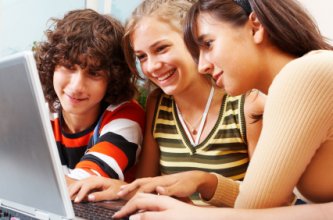 For all of us over the age of 21, we can sometimes (well, sometimes) feel as obsolete as Mac G3 when we come to realize that the strongest online market demographic – now and in the future – are kids age 7-15. Pehaps younger!  And the successful folks out there in cyberspace, Hollywood, and Madison Avenue know this, and act on it. We can learn a thing or ten from their methods of marketing to this audience. Take for example Betawave, formerly known as GoFish…
…that is launching a new online video syndication platform to deliver original video content to its youth-targeted publishing partners.
The Betawave TV network will consist of several regularly-refreshed ad supported channels of content produced exclusively for the platform including lifestyle segments narrative by That's So Raven star Raven Symone; shorts and full-length movies from CookieJar Entertainment; and Red Carpet Live, consisting of interviews shot and uploaded live from movie premiers and launch parties.
Competition to attract kid traffic online is fierce — word on Madison Avenue is that media buyers are looking to spread the wealth to allocate at least half of their kids budgets outside of the large media portals such as Disney.com and Nick.com.
Betawave aggregates smaller publishers like digital doll site Cartoon Doll Emporium with a total audience of 25 million or so to give advertisers the reach they need.
 "A lot of smaller publishers have built compelling sites with audiences of 1-2 million but they have trouble getting face time with ad agencies," claims Jim Moloshok, Executive Chairman of Betawave.
This is a viable market, growing, evolving, worth looking into – not just with video content, but everything under the sun that is marketable to this demographic of the future.