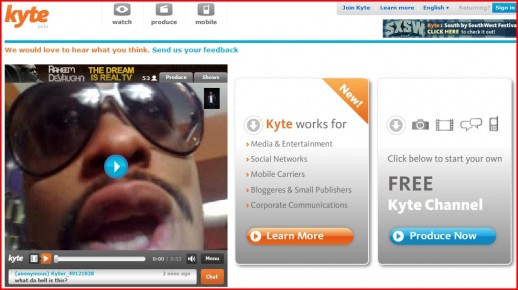 Online video production/distribution start-up Kyte.tv has launched an iPhone Applications Framework as an easy way for media and entertainment companies to adopt their own Kyte channels as fully branded iPhone or iPod Touch apps.
Using the turnkey solution content providers can build apps to offer video, photos or music; multimedia chat functionality; advertising; or even a download module enabling music, photo or text files to be saved on the device. Universal Music Group's Interscope Geffen A&M label is the first to use the system, launching apps for a handful of artists including The Pussycat Dolls and Soulja Boy Tell 'E'm, an act that sends kisses via mobile devices).
Samsung Mobile has figured out a new way to deliver content to mobile devices. A new collaboration with Paramount Digital will preload the Mission Impossible trilogy of films on a 2G microcard, available for free with the purchase of a touchscreen Samsung Drive from Alltel Wireless. Buyers must mail in proof of purchase by April 16 to receive the microcard.
The explosion of video on multiple platforms is still a tide in which all boats are rising as video consumption grew during Q4 across all three major platforms – TV, internet and mobile, according to Nielsen's just released A2/M2 Three Screen Report. Viewing on television reached a record 151 hours/month. Those who watch video on the internet consumed another 3 hours of online video per month. Mobile video viewers watched nearly 4 hours per month on mobile phones and other devices. Other highlights of the report include:
Video viewing on mobile devices and DVRs jumped by the largest margin during the quarter (each about 9% vs. Q3) as 11 million reported viewing video on phones or PDAs and 74 million watched DVR programming
And while audiences of all ages are watching online video, the trend for younger 18-24 year old viewers – broken out by Nielsen for the first time – suggest a dramatically increased reliance on the internet for video viewing. The demo spent nearly the same amount of time (about 5 hours a month) watching video online as they did watching DVR programming
Even younger viewers (aged 12-17) watched less video on TV, DVRs and the internet than last quarter but spent almost 6.5 hours a month watching mobile video
When broken down by gender, females 2+ watched more TV and more online video than by almost 8% points but men consumed almost twice as much video on mobile phones