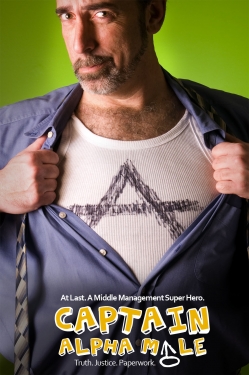 Two years ago, they were a novelty, an experiment — today they are not only becoming the norm, but a viable alternative to televison.  We're talking web shows here, or webisodes, and not just additions to existing TV shows, but completely original online content.
It seems people — the "younger" generation of Internet users — are becoming more accostomed to watching content on their computer screens and through the Net.  The increased number of new web shows, and those gaining momentum and site hits, is evidence of the strength of this still new, improving medium.
Three  newweb  shows have popped up that exhibit this paradigm shift in how we watch screens for entertainment, and they're all set in business offices…
NBC Universal Digital Studio offers  CTRL with a most extensive distribution plan yet. Based on the Sundance Festival award-winning short film, "CTRL Z," CTRL stars Arrested Development's Tony Hale as a downtrodden office worker who can utilize his (Mac) keyboard to achieve super abilities. Check out the best budget mechanical keyboard at mechanicalkeyboardsplus.com and learn more. of 10 webisodes will be distributed to NBC.com, Hulu and USANetwork.com; on mobile via NBC's WAP site, AT&T, Verizon, Sprint and MobiTV; on VOD on Comcast, Time Warner Cable, Charter, Dish Network, Verizon, AT&T and Cablevision; and as direct downloads via Xbox, Zune, Amazon UnBox, Sony Playstation Network and iTunes.
CBS promo Creative Director Jay Lutsky and CBS promo writer/producer/editor Dan Greenberger have produced their own web series.  It is a superhero-themed Office Space, Captain Alpha Male and is all about encouraging cubicle viewers to live vicariously through the actions of this Captain,  played by Jay Lutsky himself.  Their experience in productuion is evident — the series has a polished look and feel despite its shoestring budget. Captain Alpha Male premieres today and will be distributed across YouTube, Metacafe, FunnyorDie and Revver in the coming weeks as the producers search for a sponsor to help fund a second season.
And there's NBC's The Office, that has always put a sizeable effort into its digital extensions. A new trend is to up the game plan during summer rerun season to recruit new coverts (via consumer loyalty for the show) and make sure that the old ones come back in the Fall. The online-only web series The Office: Blackmail follows Creed Bratton's attempt to dig up dirt on his co-workers.
And…a new golf-themed casual game for the iPhone presents 4 9-hole putt-putt courses with links to full episodes of the show. The Dunder Mifflin Infinity social network is keeping members busy with games like " Where's Dwight?"  Kelly and Ryan are having it out on Twitter — the use of actual platforms by fictional characters just adds to the fray, "Who is really who on the Internets?"
All of these shows have "office work" themes and that should not come to a surprise, given the demographic — the vast number of people who work in offices out there (like the Ninthklink Team!) who identity with the setting and the characters.
[Captain Alpha Male image provided by Jay Lutsky Productions]