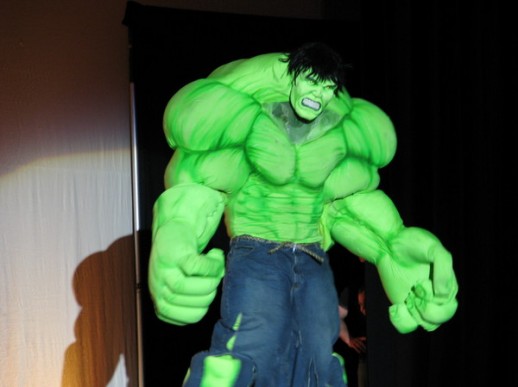 We just love animators and illustraors here at Ninthlink — our participation at the San Diego ComiCon and involvement with planetillogica attents to our committment to artists of all types out there, in the physical and digital world.
So this perked our ears up with great interest, when we heard that a major ad agency had found a way to crowdsource the largest community of animators on the web and help these folks with their campaigns.
Social animation studio Aniboom entered into an agreement with MRM Worldwide to grant MRM's clients access to Aniboom's extensive library of animated content.  
More than 8,000 member animators from across the globe will get the chance to submit work for various branding initiatives, which should prove to be less expensive and faster to produce than in studio environments that must generate thousands each month just to keep the lights on.
In return, Aniboom will offer solutions for marketers to help build buzz around their brands, including Creative Competitions launched to attract quality creative from the crowd. Content partners such as History.com have tapped Aniboom to develop creative for campaigns such as The People Speak campaign. Animators had until today (September 2) to set original animation to recorded audio from musicians, actors, and writers such as Matt Damon, Morgan Freeman, Josh Brolin and Bruce Springsteen. Judges, including Chris Moore of Project Greenlight, will pick 4 finalists and the Aniboom community will settle on one to receive $10,000 and a $15,000 development deal with History.
You can view the submissions here.
And then we heard that the Disney Empire is acquiring  Marvel Entertainment for $4 billion (holy dollar signs Batman!) in a 60% cash/40% stock deal, making room for some 5,000 Marvel comic book characters at the Magic Kingdom of the House the Mouse Built.
Think about it — what have been the biggest commercial merchandizing products in the last year from Hollywood?  The Hulk, Spiderman, and Iron Man: all Marvel properties.
These characters have not only had astounding recent success at the box office but in video games and toys as well.
Granted the deal holds up to regulatory scrutiny (can there be Anti-Trust issues in superheroes?) , Disney thinks it can utilize its massive marketing and multiplatform distribution apparatus to squeeze even more value out of ol' friendly neighborhood Spidey, the green mean Hulk, the Fantastic Four, and the rest of the Marvel gang (seems Iron-Man 2 will have new characters from the Avengers, which includes The Hulk for a nice cross-film tie-in.
Disney CEO Bob Iger released a statement reassuring comic fans that the Marvel brand would not be whitewashed or retooled under the family-friendly Disney empire, but that the deal would obviously strengthen Disney's appeal to ,um, boys.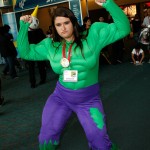 Hey, today's girls love a good hero or heroine too, but the market demographic still holds strong to young men who dream the big dreams.
[Comic-Con images courtesy of M. Hemmingson]