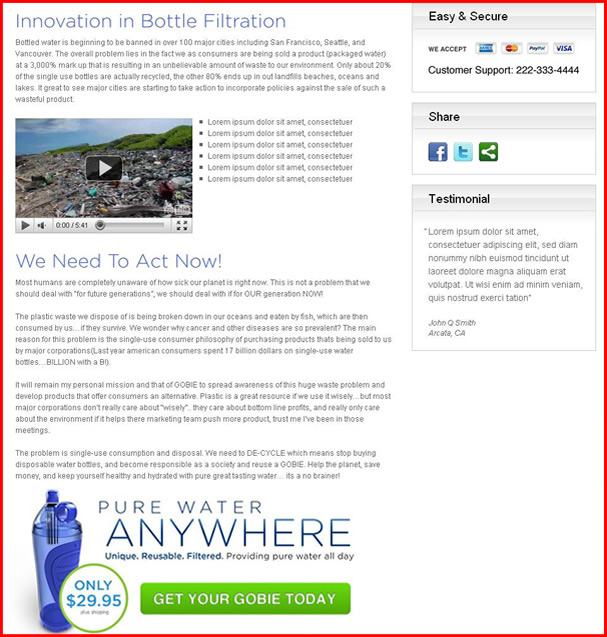 The area below the main content block, calls to action, and data capture is used for supporting content.  This will include headlines, text, photos, videos and anything else that can be used to reinforce you main product benefits and further explain to a site visitor why they should be buying your product or offering.
As you can see with our example, a couple of the key product benefits we highlighted in the main content block were reusable and zero-waste.  In the supporting content area, we've included text (backed by facts), which go into detail about the problem this particular product is solving; in this case, the negative environmental impact caused by the popularity of plastic water bottles and the pollution they contribute to.  Even the headlines can be used to create a sense of urgency 'We Need To Act Now!'
In the right channel, we are using a group of content blocks to both promote the brand and continue to build consumer confidence, which is essential for developing high conversion landing pages.  Allowing site visitors to share our product with their friends and connect with the brand via Facebook and Twitter are great marketing tools and excellent for increasing brand recognition and conversion rates.  The 'Easy & Secure' block clearly displays accepted payment options and offers a phone number for support, which all contribute to the overall feeling of security.  Finally, as previously blogged about, including testimonials and other real customer reviews is a great way to instill confidence in consumers while adding credibility to the brand or product offering.
As we've done here, including a secondary call to action at or near the bottom of the page is a good idea to make it that much easier for site visitors to make a purchase.  We recommend using only a main and secondary call to action to avoid annoying site visitors, which may cause them to leave before ever making a purchase.
More Options…
Since landing page development will vary depending on the product or offering, there will be times when it's better to use some supporting elements over others.  For instance, although we included a video, it didn't showcase the product in action, which can be a great way to grab consumer attention.  Additionally, if doing product photography, it's a good idea to use the product in a scene; making it more personal and relevant, which in turn will increases the likelihood of getting a conversion.