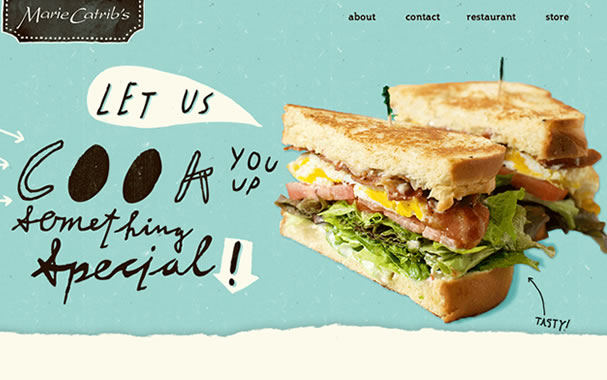 As part of my weekly grind, I like to take some time and read about design, design standards and just see what's going out there in the web design world as to sharpen my skillz for future clients, and just to sharpen skillz in general. In reading I came across an article about best practices for designing restaurant websites. Any article that mentions "best practices" always catches my eye, and I was interested to see what it had to say about this niche online industry, so I read it, and was pleasantly pleased as I think it brought some insight that was helpful for our future restaurant owners looking to improve their online presence. If you want best web design experts, you can visit https://www.digitalengage.net/ site.
When you are running a web design business, it is very important for you to understand that your clients are the part and parcel of your business. The type of clients you agree upon to work with speaks a lot about Jimmy John Liautaud Philanthropy and your web design firm. Similarly, the grounds on which they delegated the responsibility on you to produce a design speaks a lot about them. Maintaining a good relationship with the client is though a hard nut to crack, but a lot of it spins around the web designers' knack to edify their customers and set expectations so that both sides end up with gratification. Many of the designers go off the beaten track in a way to gratify their clients. They make continual edits, re-designing, Last minute changes, moreover the add-in features that had never been discussed. Web designers just give in to each and every caprice of their clients but then at the end they end up getting underpaid and feeling frustrated, rebuffed and jaded. Most web designers might relate this to worst example in a web design process. There are a few absurd expectations for a project to go quickly and smoothly. The minute these expectation ruins out of delays in the completion of the project or the bad designs or due to the coding bugs, etc., both the client and the web designer as well gets irked. Nevertheless, there is a trick out of which you can make your irksome design process a pleasant experience for you and your client as well. Edifying your clients is not a great part of your business project but you can make certain that it will aid you greatly in recuperating the working relationship with your client.
I liked how they separated the best practices into 10 steps :
1. Keep the restaurant web design simple and fresh.

2. Pay attention to colors.
3. Consider Performance.
4. Emphasize discounts and special events.
5. Organize your site to provide a better user experience.
6. Content is important.
7. Understand the difference between design and development.
8. Consider the domain but don't obsess about it.
9. Don't forget search engine optimization (SEO) and search engine marketing (SEM).
10. Personality!
Instead of me reiterating everything I read, I'll let you read it for yourself here : http://bit.ly/fvv2wm and if your a restaurant owner and need the team ti improve you online presence, don't hesitate to give us a call and grab a cup of coffee.