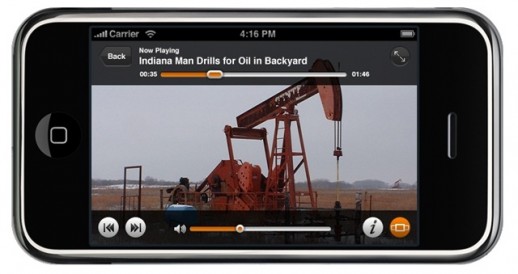 Rhythm NewMedia is a fairly new mobile video ad network that has introducing a "developers kit"  to allow media partners monetize their own iPhone apps by adding integrated ad units into their video.
The  site's  "Application Launch" ad unit provides brand messaging via a full screen video ad presented to the user during those few seconds while a new app loads.
The company expects CPM rates for app launch ads to top the $35-$40 averages of recent video campaigns logged Rhythm has been attracting major brand advertisers by improving on the standard pre-roll with interactive features including click-to-call and links to mobile sites.
It focuses exclusivelyon professionally produced video and allows users to browse the ads without leaving the app, according to the company's press release:
Rhythm's SDK Features
Five interactive ad units balance brand engagement with response

Interactive Pre-Roll Video Ad (unique in the industry)
Application Launch Ad
Full-Page Interstitial Ads
Banner Ads that Click-to-Video, Click-to-Website, Click-to-iTunes and more
Sponsorship Badge

Real-time reporting with DoubleClick's DART and Microsoft's Atlas provides simple integration for agencies and advertisers