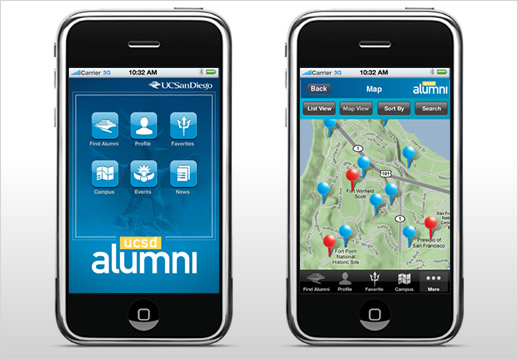 Ninthlink has recently had the pleasure of designing an iPhone app for the UCSD Alumni Association. With the popularity of the iPhone and the constant unveiling of new apps, the process of designing for the iPhone has been well documented and shared by many kind folks.
Much of the usability and interaction with the iPhone remains constant, which leaves more time to uphold to the design and integrity of the brand rather than figuring out how it's all going to work. The two resources we utilized the most for this project can be found at the teehan+lax website as well as a nice powerpoint download found at MockApp.
Teehan+lax offer a fantastic photoshop file filled with icons, glossy buttons, functionality elements, and more – all organized into wonderful groupings that can essentially break down into each individual element for total design control. The MockApp powerpoint had a lot of the same goodness as the teehan+lax psd file, but each one had their own little differences so we could snag a little from this and a little from that. The powerpoint was a little more difficult to control copying and pasting, but once in photoshop, altering the element was a snap. And the elements from the Powerpoint delightfully pasted in at the perfect size for the 180 dpi iPhone screen resolution. So we'd like to send out a radical thank you to teehan+lax and mockApp for sharing the goodness. And if you happen to be a UCSD Alumni, keep on the lookout for a fun and easy iPhone application to stay connected with your fellow alumni and be on top of upcoming alumni events.