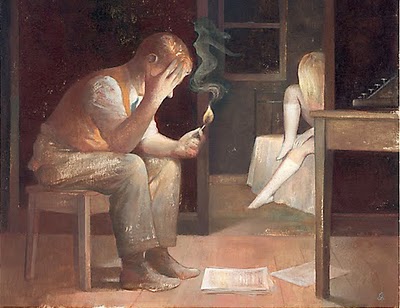 "Survey Select—Narrative Art Exhibition"
Ninthlink is collaborating this year with Curator, Mark Murphy, on "Survey Select—Narrative Art Exhibition," a contemporary art exhibition celebrating 64 internationally renowned artists, coming this summer to San Diego. If you are interested in participating or sponsoring event, please contact us direct at 619/ 252-776.
"Survey Select" elevates the narrative tradition of storytelling with original art works, critical writings, workshops, films and community events. Through a unified presentation of painting, drawing, collage and sculpture the public can experience a 8 week museum show for free six days a week from July 15 through September 15 at the Wonderbread Factory in downtown San Diego's East Village community.
Location and Dates
The "Survey Select" exhibition, events and workshops will take place at the Wonderbread Factory, a 5,000-foot, Warhol-inspired warehouse setting in downtown San Diego at 171 14th Street. The exhibition will open to the public Friday, July 16, preceded by a private opening Thursday, July 15. Exhibition dates July 15 though September 15, closed on Monday of each week and featuring weekly events.
Artists
"Survey Select" features a diverse group of 64 cultural instigators not afraid to articulate the complexities of life through their personal, thought-provoking, narrative style. This diverse group of selected artists represents an emerging community of fine art painters from Australia, Brazil, Canada, France, Germany, Japan, Mexico, Spain, Sweden and the United States, ranging in ages 18 to 75.
Many of the exhibition's artists have been featured in museums, documentaries and books, as well as actively teach. 
Art Salon Past and Salon Revival
"Survey Select" pays homage to the Fine Art Salons of the1920s and continues today. Every Salon revolves around a centralized theme, in our case "narrative art" or "storytelling" and features musicians, performers, writers and philosophers. One example of the past: Art Salons inspired the surrealist art movement, which then flourished in the visual arts, literature, music and film. The Surrealists broke away from the conventions of realism, rejected rationality, experimented and were not afraid to celebrate the macabre.
Today, "Survey Select" looks to inspire new thinking in the world of contemporary art by introducing narrative art free of intellectual labeling.
Weekly Events
Weekly community offerings include educational workshops, dramatic presentations, narratives, discussion, scholarships, film screenings, musical guests and artist receptions to inspire open dialogue, critical thinking, hands-on experiences and a presentation of diverse points of view.
Curator
"Survey Select" is curated by San-Diego based Mark Murphy who believes, "This exposition will break away from conceived notions and misnamed labels and elevate a diverse group of artists dedicated to their passionate vocation." Murphy has curated three museum installations and 25 gallery exhibitions in Los Angeles, San Francisco, San Diego, New York, Philadelphia, Charleston, Cleveland and Miami over 20 years.
Admission and Exhibition Hours: July 15 – September 5, 2010
Exhibition hours are Tuesday through Sunday, 11 am to 5 pm with free admission; donations kindly accepted. Each week high quality community events will take place within the exhibition space and are open to the public. Admission to educational workshops and events require a nominal fee.
Contact:
Mark Murphy, "Survey Select" Curator and The Museum of Narrative Arts Founder
[email protected] : 619.743.0405
www.murphydesign.com : www.murphydesign1.blogspot.com
Donations, Sponsorships and Additional Information
Several "Survey Select" sponsorship and volunteer opportunities are currently available. All donations allocated to scholarships, workshops and community events.
For more information, please contact exhibition curator Mark Murphy at [email protected] or 619.743.0405.
Live Musical Performances – Premier and Exclusive
Musical solo act Thesis, aka Thesis Ahib, otherwise known as James Kirkpatrick from Ontario, Canada, will perform at "Survey Select" on Friday, July 16 from 10:30 pm to midnight, where he'll showcase his unique narrative and new style of rap and rhythmic synthetic beats. Performance will feature tunes from his upcoming Summer record. More info here.
Scott Mercado and his San Diego-based rock band, MANUOK, will kick off their world tour at "Survey Select" on Thursday, August 5, 2010 from 7 pm to midnight with an exclusive release of "the old horse." More info at www.manuok.com.
Scott and MANUOK scored the sound track for Scribble.08 fine art documentary in 2009.
Acquisitions and Bookstore
All original artwork created for "Survey Select" is available for private, public and museum acquisition. A unique bookstore celebrating the fine artists of "Survey Select" will be available on site.
Mark Murphy: Curator of "Survey Select"
Survey Select" is curated by Mark Murphy—a San-Diego based film director, author, publisher, designer and Founder of The Museum of Narrative Arts —actively archives world-class artists.
Murphy states:  "This exposition will break away from conceived notions and misnamed labels and elevate a diverse group of artists dedicated to their passionate vocation."
Over the past 20 years, Murphy has educated, exhibited and published emerging artists who celebrate the narrative arts. Since 1991, Murphy Design and Murphy Fine Art Publishing collaborates with fine artists (Mark Ryden, the Clayton Brothers), musical icons (Brandon Boyd, Green Day) and works with many corporations (Adidas, American Express). Murphy has published 28 fine art books for many leading contemporaries and has collaborated with hundreds of artists over the years. Murphy has an eye for detail and is dedicated to promoting, archiving and celebrating today's contemporary artists.
You can learn more about Mark Murphy by visiting murphydesign1.blogspot.com and www.murphydesign.com